Description
Iridex Cyclo G6 Glaucoma Laser System
The IRIDEX Cyclo G6 Laser System is a semiconductor diode laser that delivers true continuous wave infrared (810 nm) laser light for ophthalmic applications and is also the first in its class designed specifically to treat patients diagnosed with a range of glaucoma disease states. It features the Company's proprietary MicroPulse technology, in which a continuous-wave laser beam is chopped into a train of tiny, repetitive, low energy pulses separated by a brief rest period allowing the tissue to cool between laser pulses.
Features:
Excellent Safety Profile
The MicroPulse P3 Glaucoma Device powered by the CYCLO G6 Glaucoma Laser System enables a versatile procedure with multiple safety benefits:
Non-Incisional
Minimal to no inflammation post-op
Patient downtime is significantly low
Repeatable
Predictable
Can be used in the office and operating room

Efficacy – Confidence in IOP Control
Long-term results from National University Hospital (NUHS), Singapore prospective clinical study showed:
33% IOP reduction at 18 months, N = 38 patients
61% med reduction (2.1 to 1.3)
73% success rate with 1.3 sessions
Glaucoma Therapy Device Options
The patented MicroPulse P3 Glaucoma Device, G-Probe Device and G-Probe Illuminate are used to deliver laser energy for the treatment of glaucoma.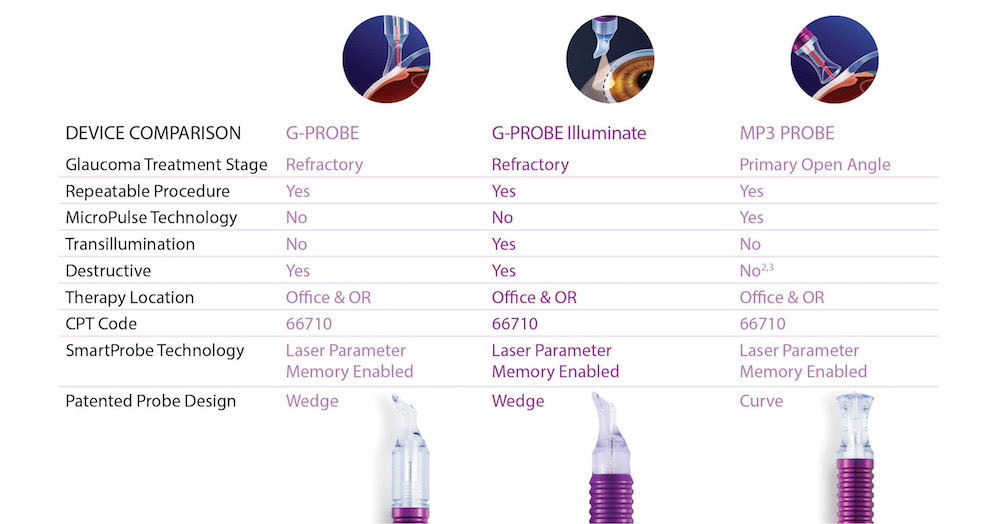 G-Probe Delivery Device
Continuous-Wave Transscleral cyclophotocoagulation (CWTSCPC) using the G-Probe Delivery Device is a long-term, effective intraocular pressure (IOP) lowering procedure for many types of glaucoma patients. Patients with refractory glaucoma and those with good visual acuity can benefit from CWTSCPC using the G-Probe.

What is the treatment technique for the G-Probe?

MicroPulse P3 Delivery Device
Versatile and Non-Incisional Glaucoma Treatment With MicroPulse Transscleral Laser Therapy
A success rate of 60% to 80%
Achieves IOP reduction of 30% to 45%
Durability of up to 72 months with 3 retreatments
Over 120,000 patients treated in 60 countries
Leaves future treatment options open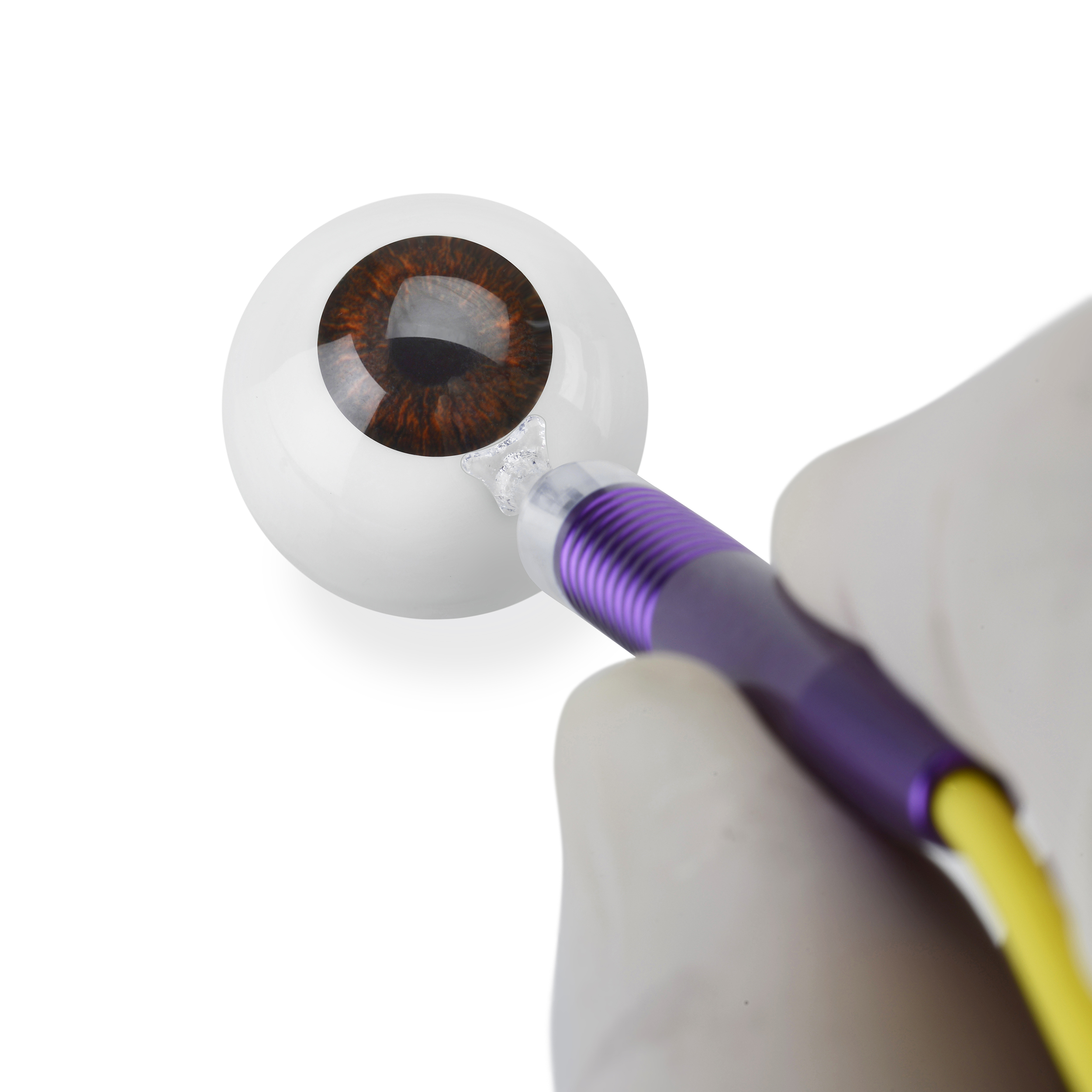 What is the treatment technique for the MicroPulse P3 (MP3) Probe?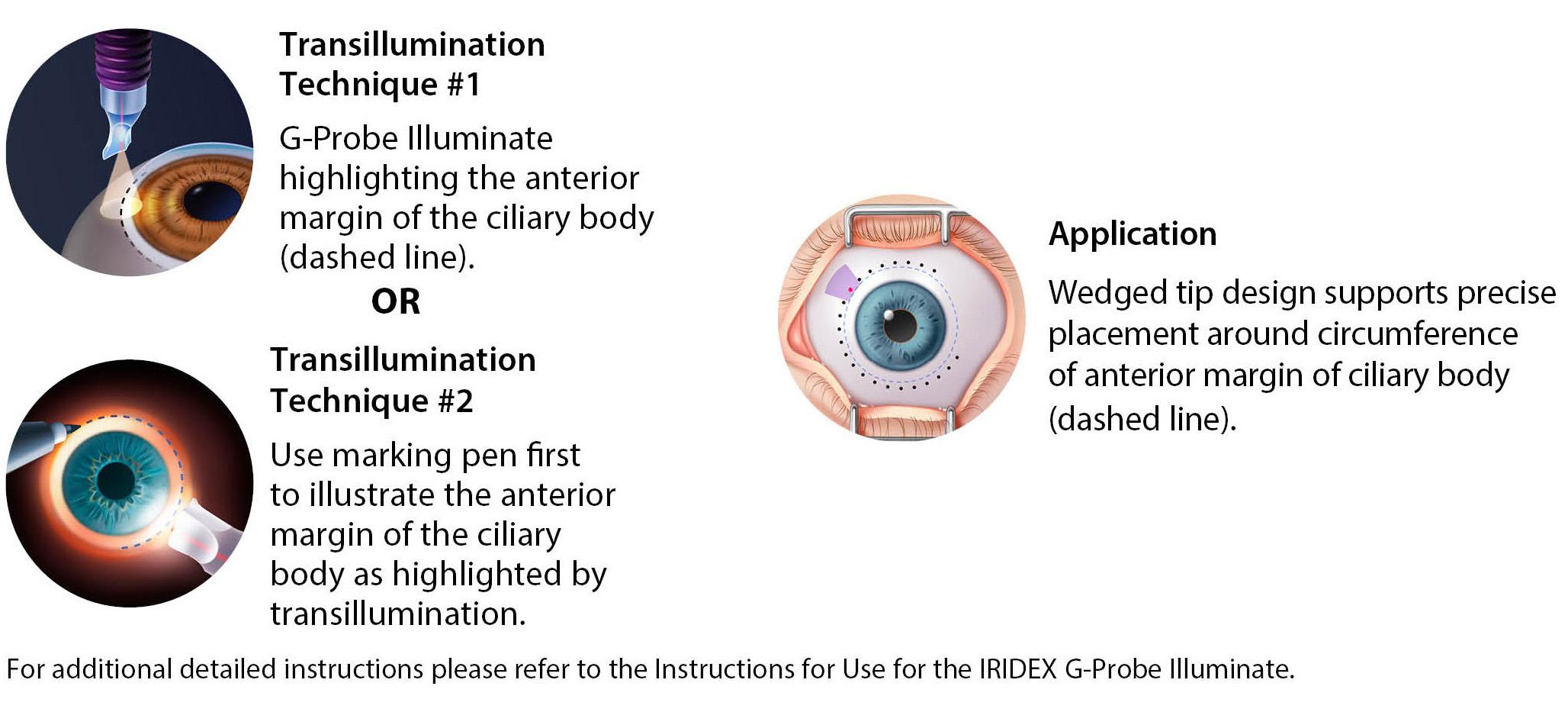 Additional Features:
Programmable user presets for up to 10 individual presets
Color LCD Touchscreen interface
Backlit control knobs and Treat/Standby button
Countdown Timer with audible/voice confirmations
Specifications:
Treatment wavelength:  810 nm infrared
Treatment power:  50 – 3000 mW, depending on delivery device
Exposure Duration:  CW-Pulse:
10 ms – 9000 ms in 606 increments and continuous pulse up to 60 seconds,  MicroPulse: 
0.05 – 1.0 ms in 19 increments
Exposure interval:  CW-Pulse:
10 – 3000 ms in 598 increments and One Pulse,  MicroPulse:
1.0 – 10.0 ms in 90 increments
Aiming beam: 635 nm (nominal) laser diode
1 mW maximum
User-adjustable intensity; coaxial with treatment beam
Illumination: LED, white
0 – 5 mW
Electrical: 100 – 240 VAC, 50/60 Hz, <0.8 A
Cooling: Air Cooling
Operating temperature range: (50°F to 95°F)
Storage temperature range: (-4°F to 140°F)
Dimensions: (10.6 in × 11.6 in × 7.8 in) (W x D x H)
Weight: 10.5 lbs.
This Iridek Cyclo G6 Glaucoma Laser System comes equipped with:
6 Month Warranty
*Unit has been used in less than a dozen cases
Foot Pedal
Manual
Laser Goggles (2)
*G-Probes and MicroPulse P3 Probes available separately
For more information on the Iridex Cyclo G6 Glaucoma Laser System click this link:  https://ophthalmicmart.com/wp-content/uploads/2018/10/Iridex-CYCLO-G6-Glaucoma-Laser-System-BROCHURE.pdf